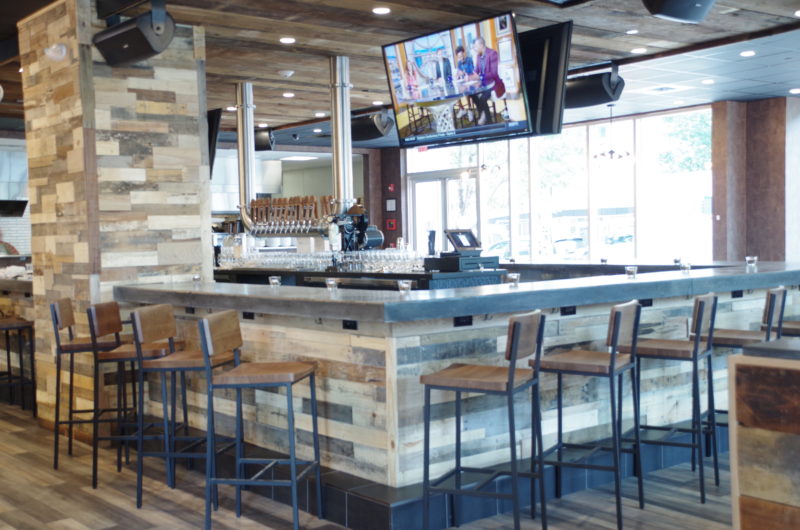 Project Type: Hospitality
Location: Northern Liberties, Philadelphia
Urban Village Brewing Company opened its doors June 1, 2017 to good reviews. Critics and the community welcomed its food, craft beer and inviting atmosphere.
This venue, located in the Piazza at Schmidt's in the Northern Liberties section of Philadelphia, was designed for the neighborhood as relaxed yet upscale.
The pub contains a craft brewery that produces a variety of beers and Mugnaini authentic Italian wood fired pizza ovens. A mixture of natural materials and earth tone interior finishes accented by the stainless-steel tanks and subway tile of the open kitchen welcomes the pub's visitors.
The north wall opens to an outdoor dining and lounge area separated by the piazza by planters and warmed with fire pits.
Beer Buster's author Wayne Baker published the following to its site June 1, 2017
"Surprisingly spacious, with a large central bar, open kitchen, and including cozy outdoor seating, the brewpub has a modern, warm feel. A multi-tone wood motif throughout, combined with matte metal trimmings and throwback psuedo-industrial lighting creates a welcoming atmosphere, both rustic and urban."
http://beerbusterspodcast.com/pizza-and-beer-and-more-at-urban-village-brewing/
Broad Street Bloggers commented:
"Urban Village Brewing Co's scene sets the stage for all kinds of experiences. Enjoy a nice brunch outside in their Garden/Patio, stop by for lunch and dine inside with a view of the brewing process, take the coworkers out to happy hour and sit at the bar, or go out for some beer and cocktails with friends and sit outside around a stone heating table and enjoy a beautiful Philadelphia night!"
http://broadstbloggers.wixsite.com/broadstbloggers/single-post/2017/06/01/Urban-Village-Brewing-CompanyBring-On-Beer-Week
Courier Post Article Jan. 2, 2018
"One of the latest establishments, Urban Village Brewing Company, recently opened in Northern Liberties, a neighborhood considered one of the hippest and most vibrant in the city."
Client Testimonial
David Goldman, owner of Urban Village Brewing Company
We contracted Peter Porretta of Lighthouse Architecture to help us convert a corner of our restaurant into a covered patio that we could also keep open all year.
He was able to create designs for major structural work to accomplish our goal of expanded space.
He was creative and knowledgeable and we are very happy with what he designed for us.