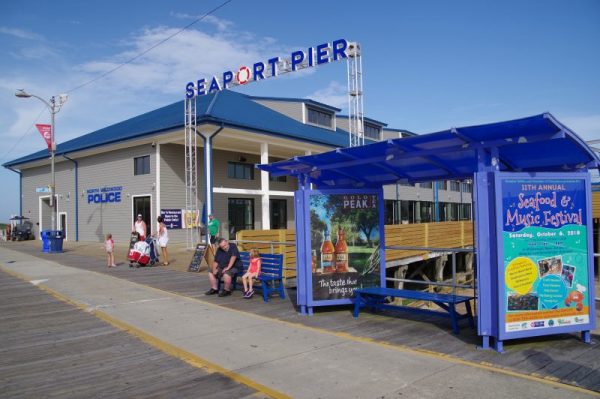 Project Type: Hospitality
Location: North Wildwood, NJ
The Seaport Pier opened to the public the first week of July, 2018 and has been a hot spot for visitors to the Jersey Shore ever since.
The newly renovated 60,000 square foot pier located at on 22nd Street, provides a wide array of resort-style amenities.
Pier visitors are now enjoying its two bars, a pool with swim up bar service, a sun deck, outdoor patio seating, soon-to-open restaurants and a stage area for open air concerts.
The aqua blue flooring and soft gray seating and bar area is an open concept that also includes several large screen televisions.
According to a review by NJ.com, the pier is "pretty awesome."
In its limited time, Trip Advisor has given the Seaport Pier excellent reviews.
Community Testimonial
"In just a few short months, Seaport Pier has already had a meaningful impact on the Wildwoods Boardwalk and the community at large.  As an oceanside special event site with a private pool, restaurant and bar, Seaport Pier brings a new dynamic and vision to the Wildwoods Boardwalk.  Seaport Pier was designed to incorporate the amazing natural beauty that surrounds it and serves as a perfect gateway between the Wildwoods Boardwalk and our beaches." – North Wildwood Mayor Patrick Rosenello